Home
About Us
Contact Us
Help Us
Site Map
Downloads:
Mining
Skill Training
Items
Combat
Fast Find:
Document List
What's New?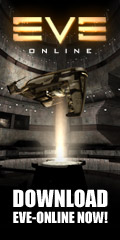 EVE Online - Revelations II ™
Concise, reliable, PRINTABLE fingertip facts for EVE Online
---
If there are times when you wish you could just extract all the important information from the EVE Online menus and databases into simple,

printable reference sheets

that you can keep at your fingertips, then these pages are for you:
Mining tables provide essential information for your mining activities, and demonstrate that the richest mines don't always provide the best return on investment!

Skill Training and character generation hints and reference sheets help you roll your character, focus your training and calculate training times.

Items reference sheets provide handy ways to compare ships, guns, and other equipment, so you can make the best of your limited budget.

Combat information will help you sort out some of the elusive bits of need-to-know info such as Base Shield Damage versus Base Armor Damage.
---

Note:

All documents on our site are .pdf files

requiring Acrobat Reader v4.0 or better (available free at www.adobe.com) to open. They are optimised for printing on 8.5"x11" (ideally, in colour) and may not be as clear (or correctly oriented) on-screen as they are when printed. Print testing has been done on inkjet and laser printers, in both colour and greyscale.

If you have previously printed any of these documents, check for updates here by comparing the date on the bottom left ("footer") of each printed sheet to the (publication date) listed here behind each pdf file.

---
Back to Top
© 2006, 2007 giddygamer.com ...

... Page last updated 2007/08/21

EVE Online and Revelations II © CCP 1997-2007